Bl0ckbuster book "Picturing Frederick Douglass" reveals that most noted abolitionist and orator was the most photographed American of his time. African Diaspora Tourism invites you to read article below by Robert Feldman in the Huffington Post:
Who was the most photographed American in the 19th century? Most would say either Abraham Lincoln, George Custer or perhaps Mark Twain. In fact, the seminal African American abolitionist leader Frederick Douglass (1818-1895) takes first place with 160 known portraits.
This landmark coffee table tome---gorgeously produced in duotone---is a must have for any student of the abolition of slavery and of this remarkable man. We live in an age of ubiquitous "selfies" on Facebook, Instagram and other social media sites. Picturing Frederick Douglass proves that Douglass was over a century ahead of his time by permitting himself to be photographed, canonized and ultimately loved by photographers' lenses.
The first page of the book states: "Frederick Douglass was in love with photography." During the Civil War he wrote more on the subject than any other American. All of the discoverable photographs have been collected into this single volume providing us with a visual biography of this ex-slave turned leading abolitionist, eloquent orator and renowned writer. Each portrait exhibits his handsome visage in a serious, almost stern pose. He regularly visited photographers' studios throughout his life. He studiously avoided smiling in each of the portraits. He gave speeches promoting photography as the great "democratic art" that would finally comprehensively describe black humans instead of that slave "thing".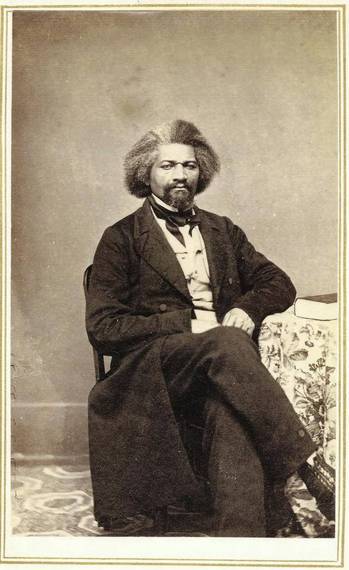 Photographer: Edwin Burke Ives 1863
All of the gorgeous photographs in this book demonstrate that Douglass always countered the blackface minstrelsy caricatures that had unfortunately become public perception of the black man. Therefore his legacy is intertwined with the works of art in his portrait gallery contained in this important book.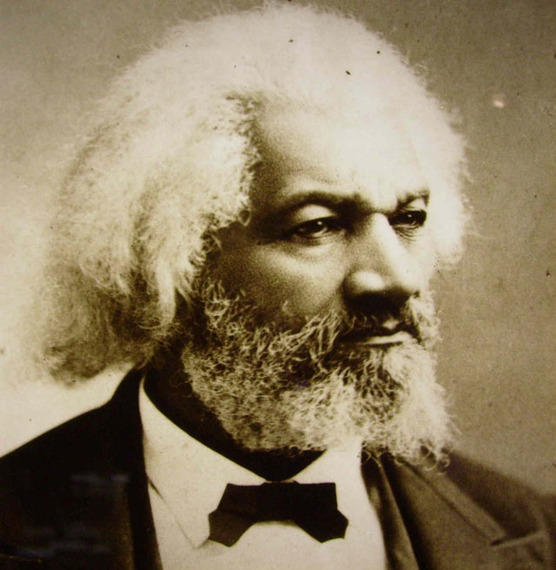 Photographer: Charles Bell 1882
The elephant in the room that is not mentioned in this book is that Frederick Douglass was an almost preternaturally handsome man. As the years went by his hair styles on both his head and his face hinted at his evolution as a man artist and leader. One can not help but feel that the man was conscious of his extraordinary physiognomy and generously featured it photographically to show the world---particularly the white world---that people of his race possess exactly the same measure of dignity and humanity as everyone else. This indispensable legacy continues but unfortunately in some quarters still has not been fully achieved.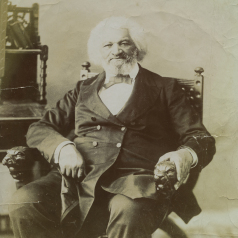 Photographer: Douglas Bourdon 1894
An essay by Henry Louis Gates Jr., and an afterword by Kenneth Morris, Jr.---a direct Douglass progeny---complete this incomparable biography of a man whose prophetic vision and creative genius knew no bounds.