5th IIPT African Conference Achieves
Major Outcomes
The 5th IIPT African Conference, organized in partnership with the World Tourism Organization under the patronage of His Excellency Rupiah B. Banda and hosted by the Zambia Ministry of Tourism, Environment and Natural Resources, Hon. Catherine Namugala, Minister, brought together more than 440 delegates from 36 countries who shared their experiences, ideas, wisdom and commitment within the conference theme:
Meeting the Challenges of Climate Change to Tourism
In Africa and the Developing World
The important role of travel and tourism in contributing to peace and sustainable development was highlighted throughout Zambia and Africa, by His Excellency Rupiah B. Banda declaring the week of the Conference "National Peace through Tourism Week" and the resulting media coverage of the conference and week's activities.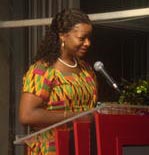 National television, radio and press coverage began the week beforetheConference, with interviews and news of the upcomingConference, continued throughout the week, with coverage of the Opening Ceremony and proceedings of the Conference, and extended into the following week, with further interviews and press coverage of the outcomes, particularly the Lusaka Declaration.
Thanks to our media partners, and particularly eTurbo news and TravelVideo.TV, the 5th IIPT African Conference received broad international coverage as well.
Bea Broda, Producer, TravelVideo TV with
Zambia's first President , Dr. Kenneth Kaunda

Thomas Steinmetz,

Producer,

eTurboNews
International Peace Park Dedication
A highlight of the week was the re-dedication of the IIPT International Peace Park at Victoria Falls with Conference delegates and dignitaries from Livingstone and the Toka Leya indigenous people of the area. The IIPT International Peace Park serves as a living and lasting legacy of the Conference at one of the seven natural wonders of the world.

IIPT Board Chairman Timothy Marshall offering a prayer to begin Peace Park Re-dedication Ceremony; Hon. Catherine Namugala plants the first tree;Chieftess of the Toka Leya tribe waters peace tree; and Ben Sherman takes part in traditional dance of the Toka Leya tribe.
Lusaka Declaration
The key ideas and recommendations of delegates have been highlighted in the
Lusaka Declaration which is being broadly distributed.
Stakeholder Group and IIPT Youth Chapter Formed
Perhaps most significant was the formation of both a Zambia Stakeholder Group and an IIPT Zambia Youth Chapter during the course of the Conference. The Stakeholder Group will come together with the aim of implementing the Lusaka Declaration within Zambia, and as hosting nation of the 5th IIPT African Conference, become a model within Africa in "Meeting the Challenges of Climate Change."
The Stakeholder's Group was facilitated by Mr. Greenwell Mukwavi. The Steering Committee will include prominent leaders from government, the private sector, academia, NGO's, and civil society. They will be assisted by a highly motivated and committed group of youth who took part in the Youth Leadership Forum and participated throughout the conference. They have since organized themselves as the IIPT Zambia Youth Chapter under the leadership of Mr. Emmanuel Mulolo, President; Ms Salipa Chisha, Vice President; and Mr. Matthews Kalabo, Secretary General. Other significant outcomes are presented in the following articles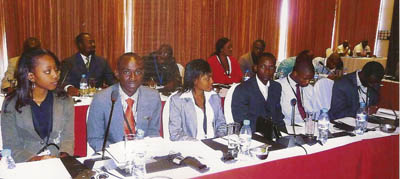 Students at Youth Leadership Forum